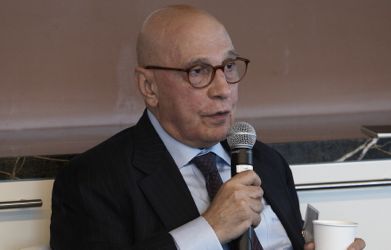 Managing Partner
WoodLake Group
Sam Seraphim is the Founder and Managing Partner of WoodLake Group, which focuses on cross-border M&A transactions between China and US, especially energy resources, private placements and strategic corporate development, including technology buildups. Woodlake has a wide network of Partner firms and individuals based in China, Hong Kong and Europe.
Sam Seraphim is also a Partner in Fieldston Investors, a middle market private equity firm based in New York City (www.fieldstoninvestors.com). Sam Seraphim founded Seraphim Investment Group, which invested private equity in energy, manufacturing, real estate and banking. He founded the Park Avenue Bank N.A. and was CEO and Franklin D. Roosevelt Jr was Chairman. Over his career in Private Equity he has invested and successfully exited transactions, cumulatively at the top 10% to 15% of private equity funds performance.
Sam Seraphim was President and CEO of SME, an engine, transmission and brake components manufacturer for GM, Ford, Chrysler, and Tier II customers. SME was owned in partnership with Itochu International. He led a unit of Chase Manhattan Bank, NA that arranged and provided $1.7 billion in project finance for infrastructure and industrial projects in MENA. Prior to that, he was a Consultant at McKinsey & Company in Toronto and New York. He started his business career as a Financial Analyst at Canadian Pacific Ltd, Montreal, Canada. Prior to his business career, Sam Seraphim was a Research Associate and Junior Lecturer at Rochester University (Office of Naval Research Contract) and Imperial College of Science & Technology, London, England.
Sam Seraphim has spoken at many public forums regarding Private Equity, Project Finance, Joint Ventures, RMB Convertibility, China's Growth and Outbound Direct Investment Opportunities. He has been a board member of a number of companies and organizations, such as The Park Avenue Bank, Norr Engineering Ltd., Bon Secours Hospital (Michigan), Hoffco, Inc., SPC Inc., St. Catherine's College (Oxford) Foundation, Arab Bankers Association of North America, and Association for Corporate Growth, NY Chapter.
He earned a PhD (Oxford University), an MS (London University) and a BS (Leeds University) in electrical engineering/telecom. While working in Montreal for Canadian Pacific, he studied for an MBA at McGill University.
Profile as of 12/17/2013