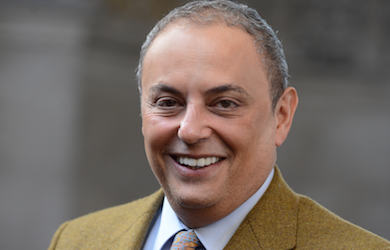 Professor Safwan M. Masri is Executive Vice President for Global Centers and Global Development at Columbia University, and a Senior Research Scholar at Columbia's School of International and Public Affairs (SIPA).
In his role as EVP, Masri directs a number of Columbia's global initiatives and is responsible for the development of an expanding network of Global Centers, located in Amman, Beijing, Istanbul, Mumbai, Nairobi, Paris, Rio de Janeiro, Santiago, and Tunis. These centers work to advance Columbia's global mission and extend the University's reach to address the pressing demands of our global society.
Masri joined Columbia University in 1988 as a member of the faculty of Columbia Business School. He was appointed Vice Dean in 1993, a position he held for thirteen years. He previously taught engineering at Stanford University, and was a visiting professor at INSEAD (Institut Européen d'Administration des Affaires) in France.
A scholar on education and contemporary geopolitics and society in the Arab world, Masri's work focuses on understanding the historic, postcolonial dynamics among religion, education, society, and politics. He is the author of Tunisia: An Arab Anomaly (Columbia University Press, 2017), which examines why Tunisia was the only country to emerge from the Arab Spring as a democracy. The book has received positive coverage in a number of media outlets, including the Financial Times and Le Monde. Masri's writings on education and current affairs have been featured in the Financial Times, Huffington Post, The Hill, and Times Higher Education.
Masri is an honorary fellow of the Foreign Policy Association and a member of the International Advisory Council of the World Congress for Middle Eastern Studies (WOCMES). He was founding chairman of both King's Academy and Queen Rania Teacher Academy in Jordan, and served as an advisor to Her Majesty Queen Rania Al Abdullah. He is a trustee of International College in Beirut and of the Welfare Association (Taawon) in Ramallah, and a member of the advisory board of the School of Business at the American University in Cairo. Masri serves on the governing boards of Endeavor Jordan and the Children's Museum Jordan, and was a director of Arab Bankers Association of North America (ABANA) and Aramex.
Masri earned his Bachelor of Science degree in industrial engineering from Purdue University in 1982; his Master of Science in industrial engineering, also from Purdue in 1984; and his Ph.D. in industrial engineering and engineering management from Stanford University in 1988. He was honored with the Singhvi Professor of the Year for Scholarship in the Classroom Award in 1990, the Robert W. Lear Service Award in 1998, and the Dean's Award for Teaching Excellence in a Core Course in 2000. Masri has also been honored with the 2003 American Service Award from the American-Arab Anti-Discrimination Committee.