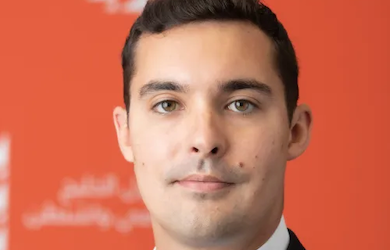 Senior Resident Scholar
Arab Gulf States Institute in Washington
Robert Mogielnicki is a senior resident scholar at the Arab Gulf States Institute in Washington. He leads the Next Gen Gulf series examining technology trends in Gulf Arab states. An expert in the political economy of the Middle East and North Africa, Mogielnicki previously served as a human resource development consultant for an Oxford-based research consultancy that operated across the Gulf region. Prior to his consulting career, he worked in journalism, covering political and economic developments in post-revolutionary Egypt and Tunisia.
His book, A Political Economy of Free Zones in Gulf Arab States, was published by Palgrave Macmillan's international political economy series in April 2021. Mogielnicki has authored several book chapters on the politics and economics of Gulf Arab states. His work and commentary on the region have appeared in Foreign Policy, Bloomberg, Axios, Forbes, Reuters, Nature, Financial Times, The Banker, The Washington Post, The Wall Street Journal, Vox, Los Angeles Times, S&P Global, and the Nikkei Asian Review, among other prominent outlets.
Mogielnicki received his DPhil from the University of Oxford's Magdalen College, where he conducted research in conjunction with the Oriental Institute and Middle East Centre. Drawing on extensive fieldwork in the United Arab Emirates, Oman, Qatar, Bahrain, and Kuwait, his dissertation examines the political economy of free zones in Gulf Arab countries. He earned his MPhil in modern Middle Eastern studies from St Antony's College, University of Oxford, and completed a master's thesis on labor policy formulation and implementation in the emirates of Abu Dhabi and Dubai. He received his BA from Georgetown University as a double major in Arabic and government, graduating magna cum laude and Phi Beta Kappa.
Mogielnicki specializes in the intersection of politics and economics across Gulf Arab states. He is particularly interested in how these geostrategic states engage in processes of economic transformation through trade and investment policies, labor market interventions, economic diversification, and technological innovation.
Mogielnicki speaks Modern Standard Arabic and the Egyptian dialect, and he possesses a working knowledge of the Tunisian dialect. He is a former recipient of the Sultan Qaboos Arabic Language Scholarship (2007-11) and served as a Critical Language Scholar in Tunisia in 2011. Mogielnicki has lived in the UAE, Egypt, Tunisia, Morocco, Turkey, and Jerusalem.