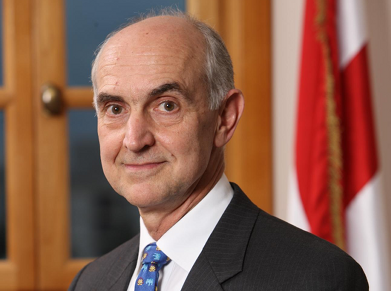 President
American University of Beirut
Peter F. Dorman was named president of the American University of Beirut (AUB) on March 21, 2008. A respected scholar with deep and strong personal roots in Lebanon and the Middle East, Dorman – who was born at the American University Hospital – returned to the land of his birth to become AUB's 15th president on July 1, 2008. He is the great-great-grandson of the University's founder, the Reverend Daniel Bliss.
The son of Presbyterian missionaries who lived in Lebanon for more than fifty years, Dorman spent his childhood in Beirut, where he attended the American Community School with his four siblings. He earned his BA cum laude in anthropology from Amherst College in 1970 and his PhD with honors from the University of Chicago, Department of Near Eastern Languages and Civilizations, in 1985. Before embarking on an academic career, Dorman served as a US Naval Officer in the Pacific theater (1971-74) and worked for eleven years in the Department of Egyptian Art at the Metropolitan Museum of Art in New York.
Dorman became an assistant professor in Egyptology in the Oriental Institute and Department of Near Eastern Languages and Civilizations, University of Chicago, in 1988, and a year later was appointed to the position of field director of the Oriental Institute's Epigraphic Survey in Luxor, Egypt. In this capacity, Dorman traveled regularly between Chicago, Illinois, and "Chicago House" in Luxor, Egypt, until 1998, when he returned to the University of Chicago to teach fulltime. Before his acceptance of the AUB presidency, he served for five years as chair of Chicago's Department of Near Eastern Languages and Civilizations.
President Dorman has received numerous academic awards and research grants and is the author and editor of several major books and many articles on the study of ancient Egypt. In 2002, von Zabern published his monograph, Faces in Clay: Technique, Imagery, and Allusion in a Corpus of Ceramic Sculpture from Ancient Egypt, an examination of artisanal craftsmanship in light of material culture, iconography, and religious texts. His most recent publication is an edited volume with Johns Hopkins University Professor Betsy Bryan, entitled Sacred Space and Sacred Function in Ancient Thebes. Although he has broad research interests and has written on many topics, Dorman is perhaps best known for his historical work on the reign of Hatshepsut and the Amarna period.
Profile as of 3/12/2014