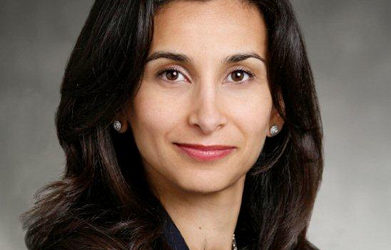 Mona Aboelnaga Kanaan has been a successful serial entrepreneur and investor for over 25 years. She has a proven track record of building successful businesses by decisively defining and implementing long-term strategic plans, recruiting and motivating winning teams, establishing focused goals, and sourcing, executing and managing transformative strategic transactions and investments. In addition to her work in the US market, Ms. Aboelnaga Kanaan has extensive experience in the Middle East, particularly in the countries of the Gulf Cooperation Council.
Ms. Aboelnaga Kanaan serves as Managing Partner of K6 Investments, a private investment firm she founded to invest in a wide array of industries including: financial services, technology, luxury and entertainment. K6 also advises institutional and strategic investors as they expand globally into these industries. Previously, Mona was President and CEO of Proctor Investment Managers, a firm she co-founded in 2002 to take advantage of private equity investment opportunities in the traditional and alternative asset management industry. After taking Proctor from start up to success, Ms. Aboelnaga Kanaan sold the firm to National Bank of Canada in 2006 and continued as Proctor's CEO until 2013.
Previously, Ms. Aboelnaga Kanaan was Senior Vice President at Communications Equity Associates where she expanded the principal investment activities in the US and Middle East. Prior to joining CEA, she was a Vice President and Portfolio Manager at Siguler Guff & Company. Previously, she held various positions at PaineWebber Investment Banking in the Leveraged Transactions and Financial Institutions Groups. She began her career at Mitchell Hutchins Asset Management.
Ms. Aboelnaga Kanaan serves as an Independent Director of Siguler Guff Small Business Credit Opportunities Fund, Inc. and previously served as a Director of Peridiem Global Investors on behalf of National Australia Bank. She is Chairperson of the financial professionals association ABANA, serves as Investment Advisor and Board Member of the Arab Fashion Council based in Dubai and is a Trustee of The Chapin School and International House in Manhattan. She is a member of the Council on Foreign Relations as well as Golden Seeds, the largest angel network in the United States.
Ms. Aboelnaga Kanaan is a frequent speaker and commentator on asset management, private equity investing and the Middle East in forums and publications such as the Annual Meetings of the IMF and World Bank, Pensions & Investments, The Wall Street Journal, Bloomberg, HFM, FundFire and The Private Equity Analyst.
Ms. Aboelnaga Kanaan earned a B.S. from the Wharton School of the University of Pennsylvania and an M.B.A. from Columbia Business School. Born in Cairo, Egypt, she now resides in New York City with her husband Sabi Kanaan and their four children.
Profile as of 4/19/2017