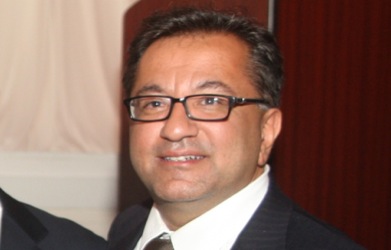 Founding Principal
Majlis Investment Management
Mr. Karim Shariff is the founding principal of Majlis Investment Management, a newly established innovative, independent investment management firm with a deliberate focus on providing multi-strategy, multi-asset class investment to substantial public and private clients across the Middle East, Africa, and Asia. Majlis in Arabic means gathering or assembly and the firm's goal is to assemble a number of like-minded regional customers—with similar investment goals, liability and liquidity concerns, wealth preservation goals, and investment horizons—so as to provide a sophisticated, full-service, cost effective specialist investment platform. Mr. Shariff is primarily responsible for establishing the firm's proposition, executing the strategic vision, and developing and administering the firm, including regulatory requirements and global partnership arrangements. The firm's objective is to integrate traditional asset management with alternative investments, incorporating the unique risks and returns of alternatives through an innovative and consultative asset allocation framework that is based on risk allocation and a specialist model of identifying and developing 'emerging managers'. Few firms in the region have articulated a distinct target-client segment and identified evolving regionally-centric investment management needs.
Mr. Shariff was a Director of SHUAA Saffron Fund Management ("SSFM"), the investment manager to SHUAA Saffron Alternative Strategies SPC, Limited ("SHUAA SAFFRON"), an innovative alternative investment platform providing multi-strategy, multi asset class investment capabilities with a focus on West Asian markets, to investors worldwide. Mr. Shariff had solely established Saffron Merchant Investors SPC Ltd., ("Saffron Merchant") as a stand-alone, India focused alternative investment platform, seeking public long-term, value-oriented opportunities with a preference for special situations. In April, 2007, SHUAA acquired Saffron Merchant, establishing in the process SHUAA SAFFRON as part of their proprietary capital effort. Mr. Shariff was responsible for SHUAA's special situations investments in the Indo-Gulf corridor. Mr. Shariff was an Executive Director within the Principal Investments Division, the proprietary multi-strategy investment arm within SHUAA through October, 2008.
Mr. Shariff brings twenty years of emerging market investment banking and investment management experience, namely originating, evaluating, structuring, negotiating, and marketing emerging market transactions. From 1988 through 1992, Mr. Shariff worked for the World Bank Group in Washington DC, where he researched macroeconomic policies, particularly private investment determinants in newly 're-emerging' economies of Asia and Latin America. Mr. Shariff's undergraduate thesis, a sophisticated algorithm to assess the effects of institutional lending and conditionality on the macroeconomic performance of fastly emerging markets, formed the basis of a significant chapter of the Bank's 1990 Report on Adjustment Lending.
From 1992 until 2000, Mr. Shariff was an investment banker with Lehman Brothers, lastly as a Senior Vice President in the firm's global M&A practice with a focus on cross­border 'emerging markets' infrastructure. Mr. Shariff was active in advising the firm's power sector clients through the deregulation of the energy marketplace globally, involved in a full range of strategic advisory and underwriting transactions including mergers and acquisitions, equity, convertibles, preferred stock, investment grade and high yield debt, project finance, and corporate restructuring. Mr. Shariff was involved in the capital raising and M&A exercises for a number of Lehman's emerging markets power sector and infrastructure clients. In 1999, most notably, Mr. Shariff led the global sale process, in the midst of Brazil's currency crisis, advising the State government of Sao Paulo in the $1 billion sale of Comgas, Brazil's largest natural gas distribution company to a consortium of Royal Dutch/Shell Group and British Gas. Mr. Shariff was transferred to Hong Kong from 1994 through 1996, where he was a member of the firm's build-out of its Asian investment banking effort, with a principal focus on Indian capital markets transactions.
In 2001, Mr. Shariff co-founded, with several of his former Lehman Brothers colleagues, 'Marco Polo Group', a Bermuda­based emerging markets financial services platform. Marco Polo Group's majority­owned subsidiary, Marco Polo Network Inc. ("MPN"), is currently the largest independent platform for electronic trading of securities listed and traded on emerging market exchanges.
From 2003 through 2006, Mr. Shariff established and developed a processor fund, Saffron Capital International ("SCl") to manage proprietary capital for $1 billion U.S. specialized multi­sector, multi stage U.S. structured transactions fund—validating a 'cross-border/cross market' investment thesis - negotiated structured investments in U.S. small cap publicly-traded companies, with concurrent outsourcing to India.
Mr. Shariff holds a B.A. from Amherst College, graduating magna cum laude in economics and chemistry, an MA degree from the Paul H. Nitze School of Advanced International Studies, The Johns Hopkins University and an MPPM from the Yale School of Management with distinction in finance. Mr. Shariff was awarded the top prize in economics for his undergraduate thesis in his college class and was the recipient of an Amherst College fellowship for his graduate studies.
In 2005, Mr. Shariff established the Saffron Scholarship Fund, a permanently endowed scholarship fund at Amherst College—whose aim is to improve the access, depth, breadth, and quality of education afforded to Indian students while encouraging them at the outset to return with that newfound knowledge to India.
Mr. Shariff is a 'transnational': born in Dar Es Salaam, Tanzania; raised in Hong Kong and Canada, and schooled in the United States, of which he is a citizen. His diverse background has allowed him to develop a global network that enhances both his adaptability and his commitment to make a difference. In November, 2008, Mr. Shariff was held captive for 44 hours at the Oberoi in Mumbai, India during that city's terrorist attacks; he was miraculously and daringly rescued by Indian paramilitary troops. His experiences made him embrace Ralph Waldo Emerson's words: "When a man is pushed, tormented, defeated, he has a chance to learn something." Mr. Shariff is married to Farahnaz Karim, with two children, a daughter—Asha Angelina—and a son—Kayal Enzo. The family resides between Dubai and New York City.
Profile as of 8/15/2010