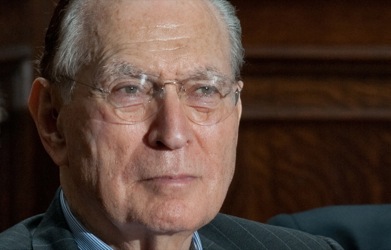 Chairman
Loeb Rhoades Trust Company
Ambassador Loeb is chairman of Loeb Rhoades Trust Company, investment counselors. He serves as chairman of the Winston Churchill Foundation of the United States. He is founder and chairman of the George Washington Institute for Religious Freedom and the Loeb Foundation. He is a vice chairman of the Council of American Ambassadors. He is a trustee of the Langeloth Foundation and the American-Scandinavian Foundation.
He was a trustee of the Educational Testing Service (SAT) from 1986-1993 and a trustee of the American University from 1985-1994. Mr. Loeb has served on seven Harvard visiting committees including the board of Overseers of Harvard College to visit the John F. Kennedy School of Government (1980-1986), and the board of Overseers of the Harvard College Committee to visit the Harvard Business School (1968-1979).
Ambassador Loeb earned his B.A. cum laude in 1952 from Harvard College where he was an editor of the Harvard Lampoon. In 1954, he received his M.B.A. from the Harvard Business School. He was a senior partner in Loeb, Rhoades & Co. from 1956-1976, and chairman of the Board of Holly Sugar from 1969-1971. He has served as a director of Metro-Goldwyn-Meyer, Rio Grande Industries and John Morrell & Co., among other corporations. He currently owns the Russian Riverbend Vineyards Ltd., which produces Sonoma-Loeb wines.
He was the U.S. ambassador to Denmark from 1981-1983 and a delegate to the 38th Session of the UN General Assembly. An advisor to Governor Nelson Rockefeller on Environmental and Economic Affairs from 1967-1970, he served as chairman of the Governor's New York State Council of Environmental Advisors from 1970-1975. From 1954-1956, he served as 1st Lt. in the United States Air Force and was stationed at the Air Force's Plant Representative Office in the Douglas Aircraft Co., Long Beach, California.
Among his awards and recognitions, Ambassador Loeb holds an honorary Doctorate of Laws from Georgetown University and has received the Justice Louis D. Brandeis Award. Ambassador Loeb has also received a knighthood from Queen Margrethe II of Denmark and a C.B.E. (Commander of the Order of the British Empire) bestowed by Queen Elizabeth II in 1994 for his work with the Winston Churchill Foundation of the United States. He is a member of the Society of Colonial Wars and the Sons of the American Revolution.
Profile as of 8/15/2010