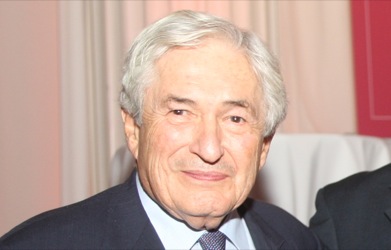 Chairman
Wolfensohn & Company
James Wolfensohn (1933) is Chairman of Wolfensohn & Company, LLC, Chairman of Citigroup International Advisory Board (since 2006), and Adviser to Citigroup's senior management on global strategy and on international matters. In 2006, Mr. Wolfensohn established the Wolfensohn Center for Development at The Brookings Institution to pursue his interest in lifting people out of poverty in the developing world by linking knowledge and action with real, scaled up, and lasting impact.
Mr. Wolfensohn was President of the World Bank Group (1995-2005). He was Special Envoy for Gaza disengagement for the quartet of the Middle East (2005-06), President and CEO of James D. Wolfensohn Inc., Executive Partner of Salomon Brothers, New York, Executive Deputy Chairman and Managing Director of Schroders, London, President of J. Henry Schroders Banking Corporation, New York and Managing Director of Darling & Co., Australia.
He is Chairman Emeritus of the board of trustees of the John F. Kennedy Center for Performing Arts in Washington DC (1996) and of Carnegie Hall. He was Chairman of the board of the Institute for Advanced Study at Princeton University (1986-2007). He is an Honorary Trustee of the Brookings Institution and was Chairman of the Finance Committee and Director of the Rockefeller Foundation, member of the board of Rockefeller University and Director of the Population Council, a member of the Council on Foreign Relations and the Century Association in New York. Mr. Wolfensohn was President of the International Federation of Multiple Sclerosis Society and Director of the Business Council for Sustainable Development. He is a Fellow of the American Academy of Arts and Sciences and a Fellow of the American Philosophical Society.
He has B.A. and LL.B. degrees from the University of Sydney and a M.B.A. from the Harvard Graduate School of Business. Mr. Wolfensohn is the recipient of many national and international medals and awards in recognition of his public service and his support for the arts.
Profile as of 10/12/2010