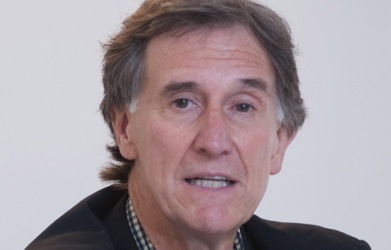 Co-Founder
Park Avenue Equity Partners, L.P.
The career trajectory of Doug Holladay has been unique and varied with its blend of public service, finance and business, non-profit work, and more recently, teaching and journalism.
J. Douglas Holladay is a co-founder of Park Avenue Equity Partners, L.P. with offices in New York and Washington. Park Avenue Equity Partners is a private equity fund, which makes equity investments in operating companies with revenues between $50-350 million. Prior to founding Park Avenue, Mr. Holladay was Chairman of the Thornton Group, LLC, which he co-founded in 1995 to make opportunistic direct equity investments in a range of smaller companies.
While Mr. Holladay continues as an active investor in Park Avenue, the main focus of his time is on several important not-for-profit efforts, including PathNorth, which helps business owners and CEOs define success more broadly, the Buxton Initiative, an interfaith dialogue organization, PlayPumps, focused on clean water in Africa, and ABC² (Accelerate Brain Cancer Cure), working to find a cure for brain cancer.
Mr. Holladay was formerly a senior officer with the international investment banking firm, Goldman, Sachs and Company, headquartered in New York. At Goldman Sachs, he worked in the Investment Banking Division on a range of matters, strategic and administrative as well as on certain international transactions with a governmental component. While with Goldman Sachs, he served as founding President of One to One Mentoring Partnership, an initiative of the New York financial community to bring imaginative solutions to some of our nation's most pressing urban youth challenges.
Prior to joining Goldman Sachs, Mr. Holladay held senior positions in both the White House and the Department of State. After working under White House Chief of Staff, James A. Baker III, Mr. Holladay was appointed by the President to the rank of Special Ambassador, charged to coordinate major aspects of the U.S. public response to the challenges posed by South Africa prior to the dramatic release of Nelson Mandela.
Mr. Holladay has advised several Presidents and numerous corporate leaders and has explained and debated public policy issues on national television. He has contributed to several books on a broad range of issues, foreign policy, culture, theology and 19th century history and has placed articles in the New York Times, the Washington Post, USA Today and other influential journals. He has delivered public speeches to leadership gatherings in more than 40 states and 10 nations.
Service has characterized Mr. Holladay's career path causing him to promote change and understanding in settings as diverse as East and South Africa, the White House and on Wall Street. Noted author, Gail Sheehy, in her best seller, "Pathfinders," described Holladay as an influential layman who "excelled in all that he touched."
Mr. Holladay has served on numerous Boards, Councils and Presidential Commissions, including the Presidential Commission on Drug Prevention, Presidential Commission on Small Business, Morehouse College, Sunrise Senior Living, Inc., Elgin Energy, LLC, CNL Hotels and Resorts Inc., Canopy Development LLC, Trinity Forum, United Way International, One to One Mentoring Partnership, Institute for Advanced Studies in Culture, Contrasting Perspectives, Harvard University Divinity for the Study of Values in Public Life, the Ethiopia Opportunity Fund, NorthStar Companies Inc., Oxford Analytica, Ltd., University of North Carolina School of Public Health Advisory Board, and the International Center for Religion and Diplomacy. He has served as a key advisor to a number of public and private companies including Heidrick and Struggles, the Case Foundation, Hughes Supply, Service Master, Providence Capital, and Alexander Proudfoot. Mr. Holladay's pro-bono work includes serving as Executive Producer of a film documentary for public television, "The Question of God," with an award-winning director, contrasting the world views of Sigmund Freud and C. S. Lewis. Mr. Holladay further served as a judge of the 2005 Emmy Awards.
Mr. Holladay holds degrees from the University of North Carolina, Princeton Theological Seminary, and Oxford University in England and has served as an adjunct professor at the University of Virginia and a guest lecturer at Williams College. He currently teaches at Georgetown University and writes a regular column for the Washington Post called "Faith at Work". Mr. Holladay was a White House Fellow finalist and played Division I Varsity Lacrosse as a UNC undergraduate.
Profile as of 8/3/2011