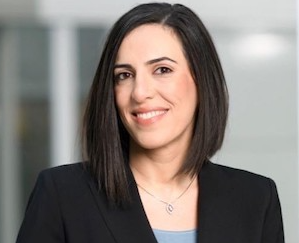 Global Manager, Climate Business Development & Strategy
International Finance Corporation, World Bank Group
Hania was appointed in December 2021 as Global Manager for Climate Strategy and Business Development at International Finance Corporation (IFC), the private sector arm of the World Bank Group. In this role, Hania leads innovation and thought leadership for IFC's strategy in climate business as well as  business development and identification of new climate investment sectors and clients.
Prior to this role, Hania was Assistant to the President of the World Bank Group, David Malpass. In that role, she advised President Malpass on strategic and policy matters pertaining to a broad portfolio, which included the Middle East and North Africa and the South Asia regions, infrastructure and climate. Hania also represented the World Bank Group in the G20 forum as G20 Sherpa, where she led and coordinated World Bank Group contributions to the G20.
Prior to joining the President's Office, she spent over 12 years as an investment professional. At IFC, she led teams to execute debt and equity investments in the energy sector in Latin America, Sub-Saharan Africa, and the Middle East and North Africa. She also worked in the Investment Banking Division at Morgan Stanley, New York, where she focused on the power and transportation sectors in the Americas, and the International Monetary Fund, where she participated in structuring a debt relief package for Nigeria.
Hania has an MBA from Harvard Business School. She also holds a BSc in Finance from the Wharton School and BA in Political Science from the College of Arts and Sciences of the University of Pennsylvania.