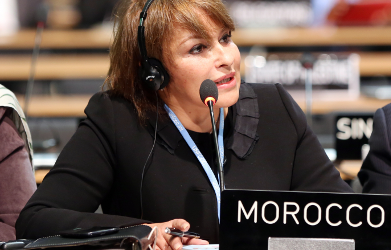 Minister in Charge of Environment
Kingdom of Morocco
Educational Background:
• BSC Degree in Water Biology and Microbiology from the Faculty of Science in Fez in 1986;
• a Diploma of Advanced Studies (DEA) in Ecotoxicology from the Faculty of Sciences in Meknes in 1987;
• First PhD in Environmental Science from the Faculty of Science in Meknes in 1991;
• Second PhD in Environmental Engineering from the École Nationale Supérieure des Mines de Saint-Étienne in France in 2010;
• Diploma in Political Communication from the University of Washington (Washington DC) in 2008.
Professional, Political and General Achievements:
Dr El Haite has an extensive experience in Project Management, which has enabled her to develop expertise in technical and administrative matters as well as financial and legal issues pertaining to Environment and Sustainable Development.
• Worked at the Directorate General of the Urban Agency of Fez (1992-1993);
• Founding Director and Chairman of S.EAUGLOBE, a leading company today in its field, specialized in environmental engineering, consulting and technical services (1994 – 2013);
• Executive Member of the National Political Bureau of the Popular Movement Party.
• President of the Commission for International Relations at the Popular Movement Party
• Delegate to the Presidential Summit on Entrepreneurship led by the President of the United States of America, Barak Obama (2010); S.EAUGLOBE nominated as a pioneer company in the environmental sector for Africa and the Middle East
• Vice President of U.S. NAPEO (North Africa Partnership for Economic Opportunity) (2011).
Dr El Haite has also had a long and successful experience in the Civil Society field.
• Vice President of the Moroccan Association of Women Entrepreneurs (AFEM) (2007);
• Vice President of the International Network of Liberal Women (INLW) (2007 & 2012);
• Founding President of ConnectinGroup International (2011) – With over 30 offices and over 5000 members today worldwide
• Chair of the Committee on the National Charter for Participatory Democracy (2013);
• Executive Committee Member of the National Civil Society Debate.
In addition, Dr El Haite has published several books and scientific papers on Environment and Sustainable Development issues.

Profile as of 9/18/14