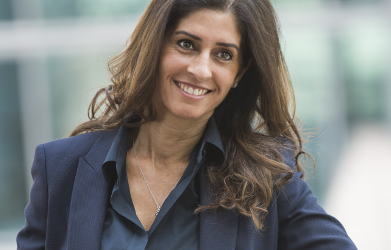 CEO
Lazard Gulf Ltd. Middle East
Farah joined Lazard Asset Management in April 2014 as the CEO for the Middle East. She spent six years at ING Investment Management, Dubai, first as the Chief Investment Officer responsible for building the investment team, across various asset classes and became the CEO at the beginning of 2009.
Farah has approximately twenty years experience analyzing and valuing companies in the UK, Europe and most recently in the region. Previous to joining ING IM she was the Head of Asset Management at NBD Investment Bank, managing a team of ten investment professionals and approximately US$2bn of assets under management. Farah was a senior fund manager at EFG-Hermes prior to NBD IB, responsible for managing GCC and MENA funds and portfolios.
Farah spent five years at Deutsche Bank in London, within the Equity Strategy team, developing the in-house valuation model, CROCI, and implementing it across the regional offices. She has also worked at Morgan Stanley within Equity Sales, covering European Institutions, followed by three years in commercial real estate advisory in Europe.
Farah has Private Equity exposure through a private venture in Argentina and an internet start-up in the UK. In 2010, Farah was selected to participate on an advisory panel for the DFSA, Dubai regulator. In 2012 Farah was elected as the chairperson of the board for the UAE Financial Servies Association. In December 2013, Farah was one of four founding members of the first non-profit female mentoring program in the DIFC, Reach. April 2014 Farah completed her accreditation with Mudara, Institute of Directors, to become the 4th female certified board director in the UAE. Beginning of 2015, Farah founded the 30% club GCC chapter.
Farah holds a BSc Hons in Mathematics from King's College in London and an MBA from Imperial College, London, specializing in Finance.
Profile as of 8/27/15