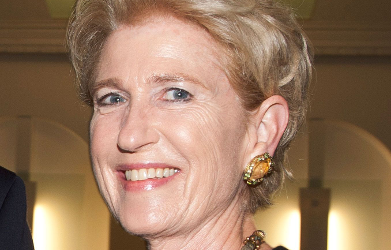 Chairman
Federal Reserve Bank of New York
Emily Kernan Rafferty is President Emerita of The Metropolitan Museum of Art, the nation's largest and most comprehensive art museum. She was elected President by the Metropolitan's Board of Trustees in 2005 and served until 2015, after a twenty-nine year-long career at the institution where she rose through the ranks in the areas of development and external affairs. As the Metropolitan's chief administrative officer, she oversaw some 1,500 full and part-time museum employees in the areas of finance, technology, legal affairs, development, membership, communications, construction and facilities management, merchandising, human resources, security, and government relations at the federal, state, and city levels.
Ms. Rafferty has served on the staff of The Metropolitan Museum since 1976. She began her career at the Met as an Administrator for Corporate, Foundation and Individual Fundraising, and then served as Manager of Development from 1981 through 1984. From 1984 through 1996 she was Vice President for Development and Membership. She was promoted to Senior Vice President for Development and Membership in 1996, and then to Senior Vice President for External Affairs in 1999.
Ms. Rafferty has also served since 2008 as Chairwoman of NYC & Company, the City's official tourism and marketing agency. In addition, Ms. Rafferty is a member of the Board of Directors of the National September 11 Memorial & Museum. In 2011, she was named to the Board of the Federal Reserve Bank of New York. She became Chairman of the New York Fed in December, 2012.
Upon leaving the Metropolitan Museum in 2015, she was appointed UNESCO's Senior Advisor for Cultural Protection and Conservation. In this role, she will serve on panels, participate in dialogues, and give lectures domestically and internationally on the importance of our shared cultural heritage. She also serves on the Advisory Board of the National Women's History Museum, an independent commission that will advise Congress on the planned construction of this museum.
Ms. Rafferty began her professional career in 1971 as an assistant to David Rockefeller Jr. in Boston, focusing on his interests in the arts, education, and philanthropy. From 1973 through 1975 she was deputy director of education at Boston's Institute of Contemporary Art.
Born and raised in New York City, Ms. Rafferty earned her B. A. degree cum laude from Boston University. In 2015 she received its College of Arts & Sciences Distinguished Alumni Award, the highest honor bestowed upon alumni to recognize extraordinary accomplishments in their professions or communities.
Ms. Rafferty is a frequent speaker on non-profit management and fundraising, and has long been actively affiliated with a number of arts and inter-museum organizations. Ms. Rafferty has been a member since 1990 of ArtTable (board of directors 1991- 1994); a member of both the Association of Fundraising Professionals and Women in Financial Development; and for ten years served on the development committee of the American Association of Museums; the Steering Committee of the Association for a Better New York; The Women's Forum; and Media NYC 2020.
The recipient of many awards and honors, Ms. Rafferty received the honorary degree of Doctor of Humane Letters from Pace University in 2014. Other honorary degrees have been awarded by Fairfield University, Doctor of Laws in 2010, and The College of New Rochelle, Doctor of Humane Letters in 2008. In 2012 she received the New York University Lewis Rudin Award for Exemplary Service to New York City. Crain's New York Business named her one of New York City's 100 most influential women from 2009 through 2013. She was the 2007 honoree of ArtTable, a group of leading women in cultural affairs, and has earned both a special service award for the Museum from the New York Landmarks Conservancy, and a community and public service "Emmy" Award from the National Academy for Television Arts and Sciences (NATAS).
Among her many voluntary activities, she is a lifetime honorary trustee of the Convent of the Sacred Heart School in New York, having served on the board for fifteen years beginning in 1985, and as its chairman from 1993 through 1997. She was also president of the Blue Hill Troupe, Gilbert and Sullivan Repertory Theater from 1998 to 1999, a group with which she has been affiliated since 1977. She has served for more than ten years as Board Vice President of the Independent School Chairmen Association.
Emily Rafferty is married to John Rafferty, a retired audit Partner at Ernst & Young. The couple live in Manhattan and have a grown son and daughter, and two grandchildren.
Profile as of 10/6/15