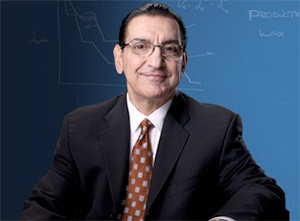 President & CEO
Quantum Reservoir Impact
Dr. Nansen G. Saleri is the President, CEO, and co-founder of QRI, a unique value-creation enterprise in the upstream oil and gas industry since 2007. He is considered one of the industry's preeminent authorities in reservoir management for his pioneering ideas in maximizing hydrocarbon recoveries, and he currently holds three U.S. patents.
As the former Head of Reservoir Management for Saudi Aramco for nearly a decade, Dr. Saleri led efforts toward establishing reservoir management metrics and launching its massive gas expansion program. He played a pivotal part in the company's technological ascendancy in its upstream capabilities, specifically in the area of modern reservoir management and 'smart' technologies. Dr. Saleri was chief architect of the company's hugely successful optimization programs, most notably for Ghawar, the world's largest field.
Prior to his work with Saudi Aramco, Dr. Saleri worked for Chevron, serving as Manager of Reservoir Engineering.
In 2006 he was the recipient of the Society of Petroleum Engineers John Franklin Carll Award, and he is both an SPE Distinguished Member and Distinguished Speaker.
He is a sought–after opinion leader on global energy issues with wide-ranging media engagements, including the Wall Street Journal, Financial Times, Bloomberg and CNBC.
Profile as of 4/9/2013