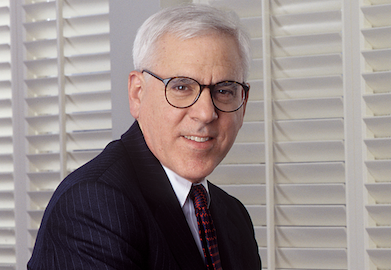 Co-Founder & Co-Executive Chairman
The Carlyle Group
David M. Rubenstein is a Co-Founder and Co-Executive Chairman of The Carlyle Group, one of the world's largest private equity firms. Mr. Rubenstein co-founded the firm in 1987. Since then, Carlyle has grown into a firm managing $195 billion from 31 offices around the world.
Mr. Rubenstein, a native of Baltimore, is a 1970 magna cum laude graduate of Duke, where he was elected Phi Beta Kappa. Following Duke, Mr. Rubenstein graduated in 1973 from the University of Chicago Law School, where he was an editor of The Law Review.
From 1973-1975, Mr. Rubenstein practiced law in New York with Paul, Weiss, Rifkind, Wharton & Garrison. From 1975-1976, he served as Chief Counsel to the U.S. Senate Judiciary Committee's Subcommittee on Constitutional Amendments. From 1977-1981, during the Carter Administration, Mr. Rubenstein was Deputy Assistant to the President for Domestic Policy. After his White House service and before co-founding Carlyle, Mr. Rubenstein practiced law in Washington with Shaw, Pittman, Potts & Trowbridge (now Pillsbury Winthrop Shaw Pittman).
Mr. Rubenstein is Chairman of the Boards of Trustees of the John F. Kennedy Center for the Performing Arts, the Smithsonian Institution, and the Council on Foreign Relations; a Fellow of the Harvard Corporation; a Trustee of Brookings Institution, the National Gallery of Art, the University of Chicago, Memorial Sloan-Kettering Cancer Center, Johns Hopkins Medicine, Lincoln Center for the Performing Arts and the Institute for Advanced Study; and President of the Economic Club of Washington.
Mr. Rubenstein is a member of the American Academy of Arts and Sciences, the Business Council, Harvard Global Advisory Council (Chairman), Madison Council of the Library of Congress (Chairman), Board of Dean's Advisors of the Business School at Harvard, Advisory Board of the School of Economics and Management at Tsinghua University, and Board of the World Economic Forum Global Shapers Community.
Mr. Rubenstein has served as Chairman of the Board of Trustees of Duke University and Co-Chairman of the Board of the Brookings Institution.