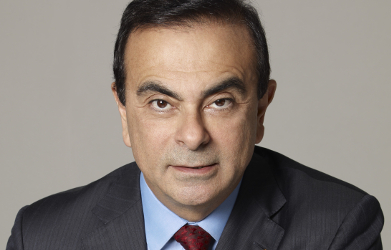 Chairman & CEO
Renault-Nissan Alliance
Carlos Ghosn is chairman and chief executive officer of the Renault-Nissan Alliance. Mr. Ghosn also heads France's Renault and Japan's Nissan Motor, two companies with combined revenues of €129 billion, and is chairman of Russia's largest automaker, AVTOVAZ.
In 2013, Renault, Nissan and AVTOVAZ together sold 8.3 million vehicles – more than one in 10 cars worldwide. The Alliance companies employ a total of more than 450,000 people in nearly 200 countries.
Renault and Nissan enjoy the most productive and longest-lasting cross-cultural partnership in automotive history.
Mr. Ghosn joined Nissan as chief operating officer in 1999, became its president in 2000 and chief executive officer in 2001. He was the lead architect of the Nissan Revival Plan, which brought the company out of a severe economic crisis in the late '90s and back to profitability in 2000.
In 2005, Mr. Ghosn became chief executive officer of the French automaker Renault – becoming the first person to run two Fortune Global 500 companies simultaneously. In 2009, he added the title of chairman of the board of Renault, replacing Louis Schweitzer. In 2013, he was elected chairman of AVTOVAZ.
The Alliance also has significant strategic collaborations with Daimler of Germany, China's Dongfeng Motor, Japan's Mitsubishi Motors, and Ashok Leyland of India.
Mr. Ghosn is the only major auto industry CEO who grew up in emerging markets. He has been the industry's most vocal advocate for sustainable transportation, and Renault and Nissan are the first to have launched a range of affordable zero-emission cars and commercial vehicles. The Alliance companies have sold more than 182,000 electric vehicles – exceeding the total of all other major automakers combined.
In addition to his leadership roles at Renault, Nissan, the Alliance and AVTOVAZ, Mr. Ghosn is president of the European Automobile Manufacturers' Association (ACEA) for the 2014-15 term.
He also serves on the board of directors of the Brazilian bank Itau Banco and on the Board of Trustees of the American University of Beirut. He is a World Economic Forum Governor; a member of the International Advisory Council of Tsinghua University in Beijing; and a member of the Strategic Council of Saint Joseph University in Beirut.
Mr. Ghosn was born in Brazil in 1954. He graduated with engineering degrees from Ecole Polytechnique in 1974 and from Ecole des Mines de Paris in 1978.
Previous Speaker Events:
ABANA Achievement Award Dinner Honoring Carlos Ghosn, October 2014
Profile as of 07/19/2017