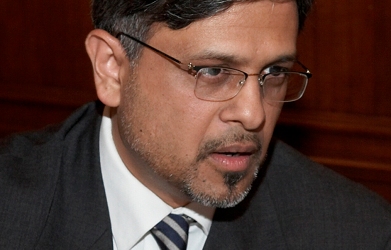 Global Head of Islamic Finance
Thomson Reuters
A. Rushdi Siddiqui is Global Director of the Dow Jones Islamic Index Group, where he has created over sixty Islamic indexes and manages a six-member Shari'ah Board. He manages over twenty-five licensees with $4B assets under management.
Mr. Siddiqui is a highly respected authority on Islamic finance, having delivered presentations at Islamic finance conferences throughout the world, held over 100 media interviews and written over 25 articles on the subject in international publications. He is a contributing editor to Islamic Banker, was Advisor on Islamic Capital Markets to Euromoney's Islamic Finance Weekly and was a lecturer on "Principles of Islamic Investing" for the on-line Dow Jones University. In 2003, he received the Sheikh Mohammad Rashid Bin Makhtoum Award of Innovation in Islamic Finance.Prior to joining Dow Jones, Mr. Siddiqui handled product development at a small Wall Street investment bank, was a marketing officer at a commercial bank and established his own marketing consulting firm. He was also a lecturer on "Privatization & Economic Reform" at NYU's School of Professional Studies.Mr. Siddiqui holds a JD from Albany Law School of Union University, an MBA from Baruch College (NY) and a BS from New York University.
Profile as of 3/11/2010